SignatureFLEX Lease Program
ENJOY LUXURY MADE EASY

Building on its commitment to offer a stand-apart luxury experience that's both thoughtful and accommodating at once, INFINITI is proud to introduce SignatureFLEX: a leasing program that offers customers the convenience and flexibility to choose the mileage they need for their next INFINITI lease.
The SignatureFLEX lease program offers lessees the ability to easily add miles during their lease contract if they are approaching or may exceed their mileage limit.
The result? A more personalized leasing option that allows customers to pick the mileage that matches their lifestyle – and continues INFINITI's ongoing tradition of delivering luxury that extends beyond the driver's seat in the process.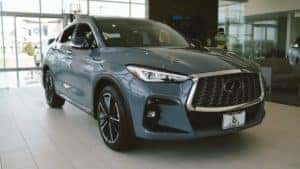 SignatureFLEX is available on all new leases and on all 2022 or newer INFINITI vehicles and lease terms, including the ultra-low-mileage, 5,000-mile/36-month leasing option.
At any time throughout the lease, clients can conveniently purchase additional mileage through the IFS web portal or mobile app. INFINITI vehicles with compatible INFINITI InTouch™ Services technology will provide automatic, personalized notifications to drivers about their current and projected lease mileage.
FAQs
What is the IFS SignatureFLEX lease program?
This is a new offering from INFINITI Financial Services (or IFS) where, for the first time, we will allow customers to purchase additional miles on their lease to match their driving needs. It is also the first time IFS will use INFINITI InTouch™ Services data to deliver more personalized communications to lessees alerting them to how usage relates to the original mileage term. All new leases that start on or after March 1, 2023 will have the option to purchase miles during their lease at just $0.10/mile.
Do vehicles have to be financed through IFS in this solution?
Yes, the SignatureFLEX lease program is unique to IFS.
How can lessees request additional miles – and is there a limit to how many miles a customer can purchase?
Lessees will be able to purchase miles digitally via the IFS client portal or mobile app, at their convenience. There is no limit to the amount of miles customers can purchase, although there is no refund for unused miles. On a daily basis, lessees can purchase a minimum of $20 of additional mileage. Mileage must be purchased in $5 increments up to $2,000 per day. Eligible customers must have an account in good standing and purchase miles more than 30 days prior to the lease maturity date.
Does the mileage purchase impact the monthly lease payment or end-of-lease purchase?
No, the mileage purchase will be considered a separate event and will be handled as a one-off transaction between IFS and the client. Purchasing additional miles is a separate transaction and the residual value will not change.
How is this different from paying for over mileage charges after the lease ends?
If the consumer purchases miles under the terms of a SignatureFLEX lease, the cost is $0.10 per additional mile, compared to an excess mileage charge of $0.25 per mile at lease expiration.
How will INFINITI InTouch™ Services data be used by IFS for the SignatureFLEX lease?
If their vehicle is so equipped, customers that have opted in to share odometer data with IFS will receive customized messaging to purchase miles when usage dictates – but data sharing is not required to purchase miles.
What steps does INFINITI take to ensure INFINITI InTouch™ Services data is transmitted safely and securely?
We follow security best practices when transmitting the data from INFINITI to IFS. Data is encrypted using 256-bit PGP encryption while transmitting.