INFINITI's QX60
The 2023 INFINITI QX60 is the upgrade of all upgrades. If you've been considering trading in your current vehicle, you won't regret purchasing your new car from our award-winning team at McGavock INFINITI of Lubbock, and we know you'll fall in love with the QX60 before you're done with your test drive.
The 2023 INFINITI QX60 is a stunning and luxurious SUV that offers exceptional performance, cutting-edge technology, and a refined design. With its sleek and aerodynamic exterior, the QX60 exudes a sense of confidence and sophistication on the road. The front grille is bold and prominent, giving the vehicle a powerful presence, while the sleek curves and body lines create a sense of fluidity and motion.
Power for Every Terrain
Under the hood, the QX60 is powered by a robust and efficient engine that delivers impressive acceleration and responsive handling. The vehicle's advanced suspension system provides a smooth and comfortable ride, even on rough terrain, and the all-wheel-drive system ensures optimal traction and stability in any weather conditions.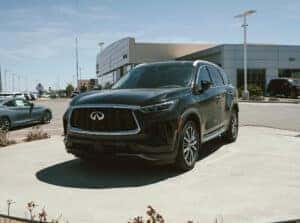 Refined Interior
The QX60's cabin boasts a spacious and elegantly appointed interior that offers plenty of room for passengers and cargo. The premium materials and attention to detail create a luxurious and inviting atmosphere, while the advanced technology features ensure a seamless and intuitive driving experience.
Sophisticated Technology
Standout features of the 2023 INFINITI QX60 include a panoramic sunroof, a state-of-the-art infotainment system, a 12.3-inch digital instrument cluster, a premium audio system, and a suite of advanced safety and driver-assist technologies.
The QX60 is a top-of-the-line SUV that offers the perfect combination of performance, style, and luxury, making it the ideal choice for drivers like you who demand the very best. Visit us today to take a test drive, or start your process by calling our sales professionals at (806) 516-8785!